Jane's Bio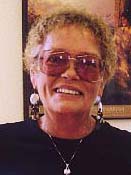 Jane was born in Milwaukee, WI, December 1, 1942. She was raised and grew up in the Milwaukee area, moving to Toronto, Canada, as a teenager where she began studying as an artist.
She moved to Silverton 30 years ago, founding J. Stone Cards in 1982. She loved to work with watercolors and created hundreds of greeting cards, which were carried by Neiman Marcus to the Oregon Garden and Silverton Art & Frame. She had incredible talent and her cards were pictured on the cover of Vogue magazine's Christmas edition, as well as, Lifestyles most recently.
Jane began writing stories and verses at the age of 7, and came to draw and write based solely on her intuition, her stubborn persistence and a belief that if she could speak from her heart, all else would follow. Her greeting card company was the largest producer of individually painted watercolor cards in the US, which represented some of the finest hand painted cards in the marketplace. Above all, she thought of her cards as tiny paintings.
Jane loved to travel to remote places and the ocean. As an adventurer her favorite places included Belize and Tonga, she was fiercely independent, a free spirit and an eccentric artist.
Jane's Own Words...
I like to think of our cards as tiny paintings...
One of the most important parts of the growth of the company was that it provided 4-5 full time artists a chance to earn a living with a paintbrush in their hand. This was and still is so important to me! The other extraordinary privilege this business allows me, is the opportunity to combine my writing and art skills in a very sacred way ~ I get to share my deepest soul thoughts with you, and in the process something I "say" to you, might comfort you, or excite you or make a tiny difference in your life, which brings me right back to my thinking that if we live from our heart, we will all live in joy, adventure and love! I would like to thank each one of you personally for your interest in our work and I wish each of you a life full of happiness and love!


(December 1, 1942 - May 30, 2012)